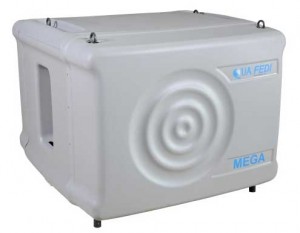 QUA®, a leading-edge developer of advanced membrane products for water and wastewater treatment applications, has launched the "MEGA" line of its FEDI® Fractional Electrodeionization (EDI) products. MEGA FEDI, which will be one of the largest EDI stacks available in the global market, is available in two versions, MEGA FEDI 2 and MEGA FEDI 2–HF, designed to accommodate different feedwater chemistry.
MEGA FEDI stacks are ideal for large capacity, high flow systems normally required in heavy industrial projects such as power, petrochemicals, refinery and electronics for high purity water needs. Each stack can handle treated water flow of up to 75 gallons per minute (GPM), the equivalent of 17 cubic meters per hour (m3/hr). In addition, MEGA FEDI's unique stackable design minimizes piping, reduces footprint, and makes it simple and easy to install on skids.
"MEGA FEDI is the latest addition to our FEDI line. We are confident that MEGA FEDI will deliver high value to end users through our OEM partners servicing the power, petrochemicals, refinery and electronics industries," said V J Nathan, Technical Director, QUA.
QUA's FEDI is used globally, with installations at numerous sites in the USA, Europe and Asia. The company recently received the 2013 Frost & Sullivan New Product Innovation Award for Industrial Water & Wastewater Treatment Technology, North America, for both FEDI as well as its Q-SEP® Hollow Fiber Ultrafiltration Modules. In addition to MEGA FEDI, QUA recently introduced FEDI-Rx for pharmaceutical industry applications.
QUA's patented FEDI technology represents the next generation of EDI technology for the production of high purity water. Developed taking into account the limitations of conventional EDI, the FEDI process improves the reliability of EDI for the production of high purity water.
About QUA
QUA (www.quagroup.com) develops manufactures and markets advanced membrane products to treat challenging waters. Headquartered in the USA, the company also operates facilities in Europe and India. The company is committed to ongoing innovation, leveraging its deep roots in R&D and the expertise of staff that is highly experienced in water treatment technologies. QUA manages the entire lifecycle and manufacturing chain of its products from the initial concept to manufacturing according to the most rigorous quality standards. QUA products are sold and serviced through a global network of qualified equipment manufacturers.
# # #